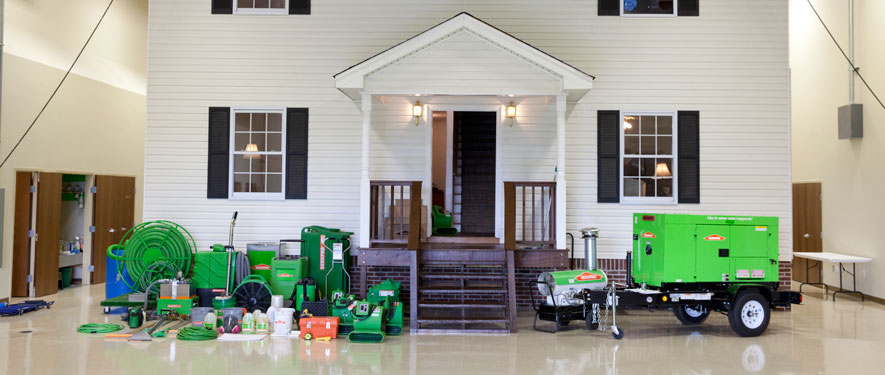 Advanced Technology and Techniques
When damage occurs at your home or business, there are a few stages of the process to return its state to preloss condition. At each stage, certain tools are used to accurately and effectively assess the situation. For example, we use moisture meters to detect even the smallest amount of water in your walls or floor.
From assessment, to remediation, and post-completion, SERVPRO of Trumbull, Monroe and Northern Bridgeport uses the industry-leading technology that allows us to best serve our customers. This competitive advantage is one of the reasons that SERVPRO of Trumbull, Monroe and Northern Bridgeport is trusted by thousands of people every year.
Moisture Detection and Measurement Equipment
Scientific drying principles rely upon specialized equipment to detect, measure, and monitor a property's moisture levels. Recent advances, like infrared cameras, can help us detect water through a wall, ceiling, or floor.
An infrared camera may be used to identify water location for thorough water removal.
Sensitive moisture detectors, hygrometers, and other meters measure the extent of moisture saturation
Water Extraction Equipment
Powerful extraction equipment speeds the drying process by removing the bulk of the water from your home or business.
Submersible and gas-powered pumps for continuous pumping of high-level water. 
Truck-mounted and portable extraction units perform efficient water removal.
Drying Equipment
Industrial strength air movers and dehumidifiers are needed to remove the remaining moisture from ceiling, walls, and floors of your home or business. Proper drying helps to prevent swelling and warping of floors, walls, and furniture.
High-speed air movers causes moisture to evaporate at a faster pace
Industrial grade dehumidifiers pull the water vapor from the air.
Odor Removal and Deodorization
Water and fire damage often causes powerful odors. The machines we use remove airborne contaminants and control the air quality during the restoration and cleanup process.
Air scrubbers
Thermal foggers and deodorization agents
Sanitizing Agents, Germicides, and Anti-Microbial Treatments
The use of OSHA-approved cleaning agents may be needed to clean and remove odors and/or contaminants on your property.
Deodorization products control odors from excessive moisture.
Disinfection products stop the growth of bacteria, fungi, mildew, and other harmful microorganisms.